THE SCIENCE INSIDE
More oxygen. Less burn.
It's that
simple.
Oxygen is the source of life to all cells.
DR. STEPHEN LEVINE, PH.D.
Activated Stabilized Oxygen is produced using a proprietary engineering process that fuses free oxygen molecules with plant-derived minerals. The result is a performance supplement that boosts oxygen levels in the body for better energy efficiency, mental clarity, and improved recovery from physical stressors.
The role of oxygen in performance
energy production
The key to peak performance is maximum energy efficiency. The most efficient form of energy production-called aerobic metabolism-depends on a steady supply of oxygen to convert sugar into muscle energy.
oxygen deficit
During strenuous exercise, the lungs can't supply enough O₂ to keep up with muscle demands, so the body reverts to a less efficient fuel system called anaerobic metabolism. This process triggers a buildup of lactic acid, resulting in muscle soreness and fatigue.
peak performance
Fortunately, ASO® can help. By increasing oxygen in the bloodstream, more energy can be produced to power muscles-extending aerobic metabolism, reducing lactic acid buildup, and maximizing performance.
18
YEARS
Amount of time until atmospheric oxygen levels could support the evolution of complex life.
90%
OXYGEN
Percentage of the body's nutritional energy comes from oxygen. That's only 10% from food and water.
10
MINUTES
Length of time the brain can survive without oxygen.
Why use ASO?
ASO® is clinically proven to improve lactate clearance and reduce recovery time in trained runners
ASO® helps boost the body's oxygen-regulated immune defenses**
ASO® supports cellular renewal by facilitating the assimilation and utilization of nutrients within the cells**
All natural (just bioavailable O₂, distilled water and sea salt!)
pH balanced (approx 7.1)
No caffeine, additives, or preservatives
100% vegan and gluten-free
Easily + rapidly absorbed into the bloodstream
Non-toxic & biodegradable
Made in the U.S.A.
BSCG Certified Drug Free®
Tested and proven results
ASO® has been the subject of more than two dozen independent research studies at laboratories and universities around the world. Athletes, scientists, educators, and health professionals have testified to its safety and efficacy. In one 6-month university study, researchers found that athletes who consumed ASO® prior to training demonstrated improvement in overall performance and recovery. Measuring O2 saturation in the muscle tissue and bloodstream, the study confirmed a significant reduction in blood lactate concentrations as well as increased lactate clearance kinetics — resulting in improved aerobic capacity and reduced recuperation times.
READ THE FULL STUDY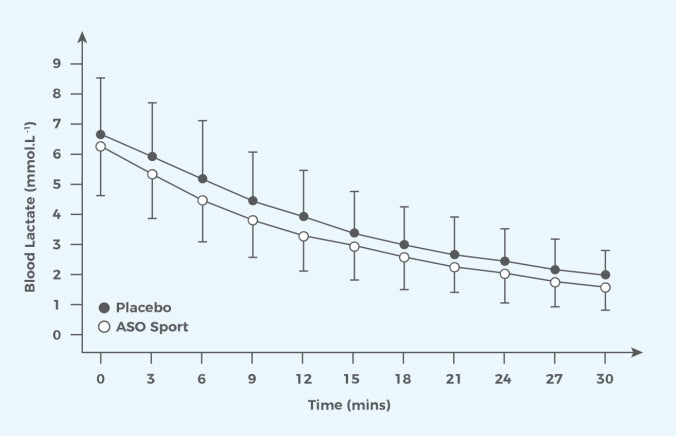 Nutrition for every body
See how our line of products benefits the entire body.
OXYGEN NUTRITION
LIVING MINERALS
PLANT NUTRITION
TOPICAL RECOVERY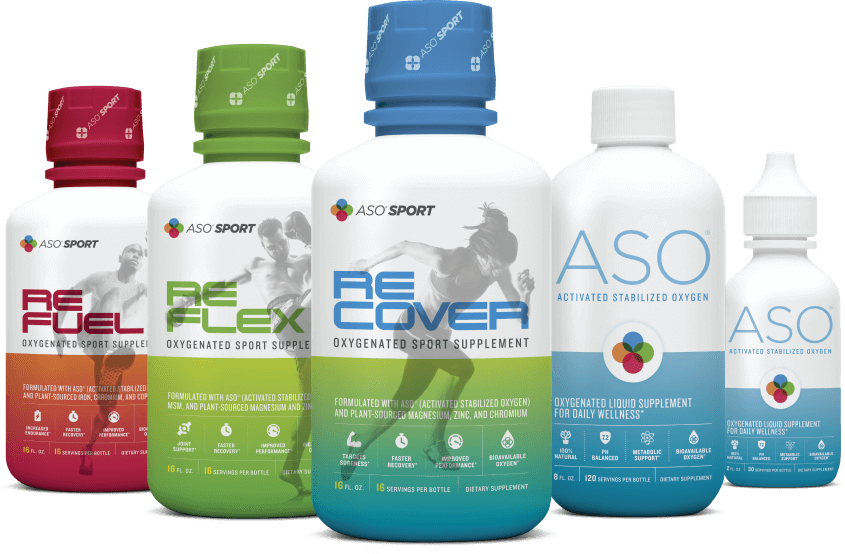 ASO® & ASO Sport™
Our flagship product 30 years in the making, Activated Stabilized Oxygen (ASO®) is the first dietary supplement engineered to support cellular function by delivering a concentrated boost of dissolved bioavailable oxygen into the bloodstream. Our newest oxygen supplement is ASO Sport™: a blend of ASO plus additional plant-derived liquid minerals to meet the unique needs of athletes. ASO Sport™ is available in three specialized blends for targeting muscle endurance, flexibility, and recovery.
Living Minerals™
Our liquid minerals are derived from ancient plant deposits and gently processed without heat, press extrusion or chemicals to ensure superior bioavailability. Plant-sourced minerals are the only kind that are completely bioactive, meaning they can be fully absorbed and integrated by the human body. These minerals are a unique source of natural vitality, having been "pre-digested" by living vegetation and transformed into organic compounds via the energy of sunlight. The result is truly uncompromised cellular nutrition.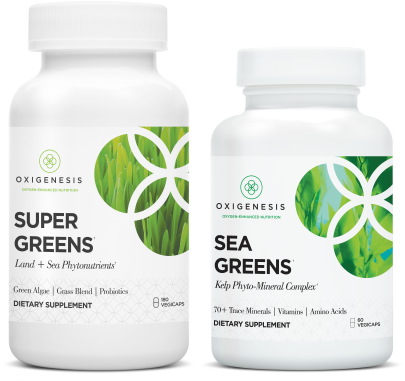 Super Greens™ & Sea Greens™
Intentional living means doing more of what you love and letting go of the rest. We apply the same principle to our supplements, using only the cleanest, most nutritionally bioavailable ingredients—and none of the fluff you'll find in other vitamins. Our unique daily plant supplements are packed with nutrient-dense superfoods from land and sea—including cold water Norwegian kelp and organic terrestrial grasses—to help maintain healthy intestinal balance, detoxify the body, and support the immune system.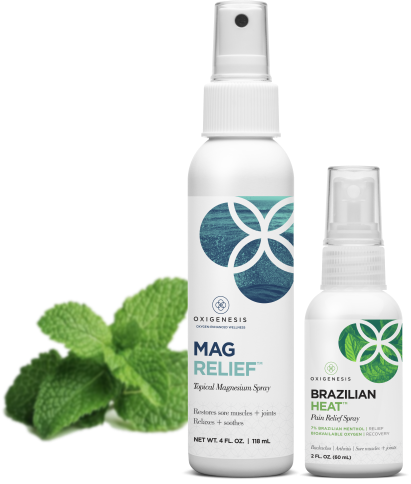 Mag Relief™ & Brazilian Heat™
Introducing our new line of natural topical recovery aids. Our non-greasy transdermal restoratives deliver fast-acting joint and muscle pain relief with ingredients like Brazilian menthol, MSM, and transdermal magnesium. Enhanced with stabilized bioavailable oxygen and therapeutic botanicals, Brazilian Heat™ supports healing at the source of pain while subduing discomfort with soothing warmth. Mag Relief™ is formulated with plant-sourced magnesium and zinc to help reduce tension and inflammatory response.
ASO Sport™ is dedicated to the bringing you superior performance products backed by clinical research and real results. That's why every product we sell comes backed with our 30-day money back guarantee.
If you are not completely happy with your purchase, simply return the unused portion and we will promptly refund your money.