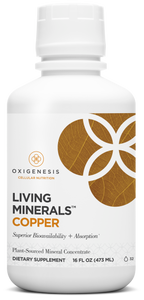 Truly no taste!
I ordered this at the recommendation of my doctor. I was very concerned about how it would taste. Truth be told, there really no taste to it. I put in my morning bottle of water and just drink. I highly recommend this product.
I just started using it and if nothing else it does not have a taste which makes it clean and easy to consume. I am looking forward to using more as a necessary additive to my diet.
Copper for immune defense
I've been researching copper's role in the innate immune system and searching for a copper supplement in its most assimilable form. Living Minerals copper is most pure/potent product I've found. Combined with zinc, I truly feel this has made a difference to my resistance against infection.
Energy
I really have been looking for something like this. Learning how great copper is made me start looking around to find. This site has been the best one yet. Knowing now how great Living Mineral Copper are made me order some. Looking forward to continuing doing business with this company.